Meet Jordan, a senior HR Generalist at Red Ventures. She's passionate about connecting and collaborating with others to grow as a team. She works in our South Charlotte office and supports our Financial Services teams in Detroit and West Palm Beach, so she gets to drop into their offices often as well! We took a few minutes to catch up with her virtually and learn about all things HR — *generally* speaking (pun 100% intended).
What'd you do before Red Ventures?
I came to Red Ventures almost four years ago, a year after graduating from NC State. While I was studying at NC State, I was a Resident Advisor in Student Housing for three years. Don't worry… you don't have to hide your beer from me anymore. In the year after graduating, I worked as an Executive Team Leader at Target, where I learned to dread Black Friday and drank more Starbucks Caramel Macchiatos than any human should!
What's a typical morning like for you?
When I get to work in the morning, I greet the day by first grabbing a chai tea from our amazing baristas in the cafe. With my warm, caffeinated drink in hand, I return to my desk and catch up with my teammates. We strive to stay connected on the important things happening—both in our personal lives and across the business teams we support.
After inevitably making my team look at the latest pictures of my dogs, I spend some time heads-down in my inbox getting up-to-date on what's happening on my teams and across Red Ventures as a whole. Usually when my tea is gone, so are my unread emails and I head into my day of meetings with everything I need!
Can you tell us more about your role?
It's difficult to capture what being an HR Generalist at Red Ventures is like in words, so here's a gif instead.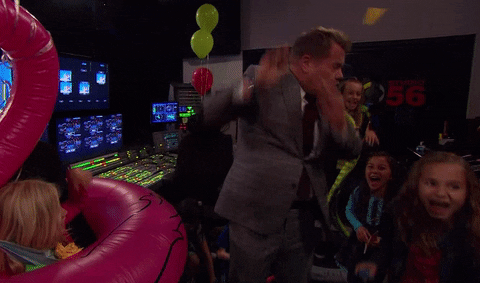 All jokes aside, this role extends beyond the role of a "traditional" HR Practitioner. Being an HR Generalist in our environment means being an advocate for our business, a partner to our management team, and a supporter of our employees. While no two days are the same, the majority of my time is focused on upholding our high talent bar through performance management, and through coaching and developing leaders. I investigate employee relations concerns, partner with our teams on talent resourcing and support company-wide initiatives.
On the HR team, collaboration is key to our success.
While we have structured time to meet in our weekly HR Team Meeting, we also frequently catch up at our desks to ensure consistency in our approaches and processes. For my support and development, I also have a weekly one-on-one with my manager Jamie. We align on our priorities, review our team's performance and talk through any challenges I may anticipate for the week. I also have several meetings each week with the leaders I support, during which we partner on their challenges and resourcing needs, and discuss how their team is doing.
What's your favorite part about being a HR Generalist?
My favorite parts of my job are the incredible people I get to interact with and the challenges we get to overcome together. Both the business teams I support and the HR team I'm on are made up of people who are incredibly passionate about their work. This kind of passion and energy is infectious and makes coming to work each day exciting.
Is there anything surprising about Red Ventures?
I think people would be surprised by the genuine "seat at the table" mentality our organization has when it comes to our HR team's partnership with the business.
Do you have any advice for anyone thinking of joining RV?
When I was making the decision to join Red Ventures almost four years ago, I came across a video of Ric Elias (our CEO) saying, "Red Ventures will be the most meaningful stop in your career." Those words could not be more true. My experience here has changed the trajectory of my career and has accelerated my professional growth in ways I couldn't have imagined. However, it wasn't without hard work and learning from a lot of mistakes.
If you are reading this article and considering joining the Red Ventures team, my advice to you is to reflect on what's important for you to get out of your career. If you're looking for a place to spend 40 hours a week and check off a task list, this may not be the best place for you. If you are passionate about bringing your best self to work every day, taking on challenges (even when they're uncomfortable) and making impacts, then you may just find the most meaningful stop in your career.
Want another peek at a Day in the Life? Check out what it's like to be a Social Media Editor at Red Ventures.