My Career(s) at RV features people who have experienced SEISMIC career shifts, turned their "side-interests" into full-time jobs, or made gigantic leaps to follow their passions. All right here at Red Ventures.
Jack Sharkey's career at RV has spanned more than 7 years. In that time, he's built impactful websites and experiences, he's performed as a one-man jam band in our first company-wide virtual talent show (really), and he's earned a reputation as one of RV's most passionate advocates for Web Accessibility.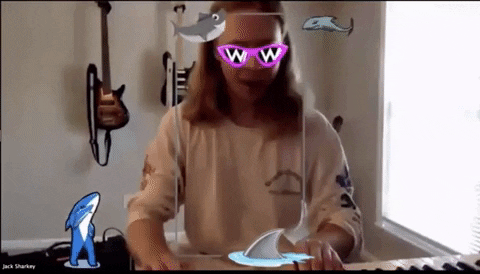 In fact, Jack's passion and work on the topic of Web Accessibility helped lead to the creation of an important new role at RV, which will meaningfully impact every team and every brand at RV.
Jack, thanks for sharing more with us about your career and your new role! Which is… what exactly?
Thanks for having me! I am RV's first ever "Staff Web Accessibility Engineer," which means my focus is ensuring all of the websites and tools in our portfolio are accessible and inclusive for every user, regardless of visual impairments, hearing impairments, or other considerations.
Basically, a full-time role dedicated to practicing inclusion online?
Yes! For example, consider the process of paying your rent or mortgage online. If you're using assistive technology, such as a screen reader for visually impaired users, but that application has not been built with accessibility in mind – then you'll likely face frustrating obstacles, like broken links, incomplete forms, or even a completely broken and inaccessible application.
That also ties back to helping people make important decisions – which is core to what we do at RV.
Exactly. To me, web accessibility is not about adapting existing experiences for people with disabilities. It's about building great experiences for everyone – which includes people with disabilities.
That's a great way to think about it. Rewinding just a bit – this is something that you've been passionate about for almost your entire career at RV. Tell us a little about that.
Sure, my first experience with web accessibility was several years ago when I worked on a project for one of RV's brand partners. I think it was actually the first project at RV that required us to meet accessibility standards, which was both a wake up call and an interesting new challenge.
How so?
In addition to what feels like an obvious moral obligation (to build inclusive, accessible experiences for all), coding for accessibility forces you to think about your work almost linguistically. The grammar of your code has to be perfect for assistive technology to translate it accurately, which naturally elevates the quality of your code a bit. I studied Latin in school, so I find it really interesting and have a tendency to geek out about it a bit…
We can see how the two have a Latin common!
[Editor's note: Jack did not help write nor does he endorse this pun.]
ANYWAY. Back to how you became one of the leading advocates for accessibility at RV (and beyond).
One of the great things about Red Ventures is our emphasis on Learning & Development. I was fortunate to have many opportunities to attend external conferences (like SXSW and others). Every time I went to one, I would make it my focus to seek out all of the accessibility talks and workshops. Then, through our internal platform at RV I was able to share back what I learned – and how it could apply to our teams – via my own workshops and internal courses.
Over time, I developed a reputation as an in-house expert on the topic, and I was often asked by other RV teams to consult for their projects outside of my day-to-day responsibilities. I essentially started treating web accessibility as a second job, as much as I could.
How/Why did it then turn into a full-time role at RV this year?
While web accessibility has always been top of mind at RV, we've always viewed it as everyone's responsibility – not necessarily a dedicated role. However, we've now reached a scale where we have dozens of teams who are all at differing levels of maturity when it comes to web accessibility.
Simply put, our leadership team has taken a stance that web accessibility should be core to all of our teams, so we're making a more proactive investment at the enterprise level.
That's great to hear! Can you share any details about where we currently stand, and how you'll approach this work?
It's an awesome step to dedicate a full-time role to this, but we certainly have a lot of work ahead of us. We're not thinking about it as a race or even corrections, but rather a long-term commitment to integrate web accessibility into our culture, the way we think about web experiences, and every stage of our tech processes.
Jack, thank you for sharing your story with us and for playing such a key role in elevating Web Accessibility at RV.
Thank you! Looking forward to sharing more on our progress over the coming months.